CHRISTOPHER DALLMAN
After 1 album and 3 EPs with a folky vibe, Christopher Dallman ditches the acoustic guitar and sad-sack singer/songwriter sound on his transcendent new album DIGITAL BLUE.  With 13 distinct yet unified tracks, Dallman explores a bold and genre-bending soundscape that draws from Pop, Electronic, Alternative, and even Jazz, taking the listener on an evocative, cinematic journey.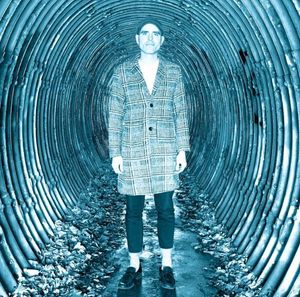 DIGITAL BLUE will be released to streaming one track at a time over the course of a year with a new song dropping on the first Friday of every month beginning May 2 2020 with the single NO SENSE IN REGRET featuring guest vocals by Julliard student and rising star Chantae Miller.  Previews of future tracks are available ahead of release upon request. DIGITAL BLUE will also be released on Limited Edition 12" Vinyl that ships in December and gives buyers 7 songs ahead of their digital release. 
A&R FACTORY says this about the single: "The haunting soundscape fuses elements of darkwave synth-pop with contemporary yet cinematic Indie, making No Sense in Regret as authentic as it is evocative. Debut singles don't get much more promising than this." 
Born and raised in Milwaukee, Dallman moved to New York City at 18, where he honed his chops at local open mics before signing with Treasure Records for his debut album RACE THE LIGHT. In 2004, Dallman relocated to Los Angeles, where he recorded 3 EPs, including SAD BRITNEY, a record of Britney Spears covers that reached #7 on the iTunes singer-songwriter charts. His video for GHOSTS reached #1 on MTVmusic.com. He has licensed his music to MTV's The Real World, Hallmark, Lifetime, and various independent films. Dallman has toured the US and overseas, sharing the stage with the likes of Amos Lee, Jonathan Rice, Ben Lee, and Amy Helms. 
"A Soulful Debut!" - TimeOut Chicago 
"Inspired showmanship... hard-driving songs - Backstage Magazine 
"A fine tunesmith" – Jackie Hayden, Hotpress Magazine 
Contact info@cdallman.com for interviews, track previews, or more information