TEAL RHYTHM
Membership
Teal Rhythm requires and helps develop dedication, discipline, and motivation. Members learn leadership skills and confidence as they achieve goals they once thought were unattainable! We help develop a strong work ethic and a dedication to excellence that will stay with members in school and other activities.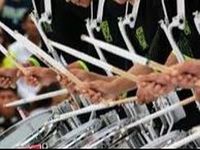 School band experience is not required, but a desire to learn is. We teach the rest! Many students learn to play instruments or learn color guard (flag) skills here for the first time! We provide all instruments and uniforms. What to bring to your 1st rehearsal
At your 1st rehearsal you will be given a full orientation of what to expect for your Teal Rhythm season and what is required. 
You are required to bring to the 1st rehearsal
The $50 tuition.

A practice drum pad and a pair of drum sticks.  We will have them for sale at the rehearsal site if you can not find them before the rehearsal.

We provide everything else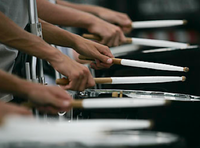 ---
Goals of the Program

Teal Rhythm provides a positive, supportive, and educational environment that will:
Foster character development.

Members will be challenged and taught in ways that build confidence, self-discipline, work ethic, and team work.

Develop members' musical, performance, and physical skills to a level they did not know they could reach.

Support music and performance education in Jacksonville.
Member Attendance

Attendance is very important for success. Each member is an equal and integral part of the whole, and any member missing is a detriment to the group's success. You should plan activities around Teal Rhythm's schedule as much as possible, but if you need to miss once in a while, we will work with you. We are very good at coordinating schedules with the members. Please speak with us regarding any questions or concerns you might have.
Teal Sound Youth Arts Family 

We reach our goals through our unique instructional environment, rehearsal structure, performances, and travel opportunities. You'll meet many new friends from other schools and from other groups throughout the state. The bonds we develop as we work together are much like a family. Some of your best friends are here, you just haven't met them yet!

Teaching Staff

Members of the teaching staff are exceptional in their area of expertise. Most work as professional educators during the school year. The staff is experienced in preparing students for many opportunities. We put student success first. Our goal is to maintain a positive learning environment that challenges us to try new things and get better every day.